No. 300 Masovian Squadron is stationed at Faldingworth Air Base in the county of Lincolnshire. Set up in 1940, the unit consists of Polish fighter pilots who escaped their country after it was occupied by the Germans. For their mission in the night of 28 May 1944, the six Lancasters of No. 300 Masovian each carry six tons of bombs. One of the aircraft is the BH-P with serial number DV282. On board are eight crew members.
They are pilot Jerzy Kazimierz Koziolek, navigator William Wisdom Tapp, an American of Polish parents, wireless operator Wladyslaw Szymanski, flight engineer Marian Myszor, bomb aimer Bernard Jankowski and the gunners Ludwik Maciejewski and Jan Duchaczek. Witold Osika, who has just completed his training to become a pilot, has boarded the plane as an extra man to gain experience. The goal of the mission: the Rothe Erde marshalling yard near Aachen.
Photo: Bomb aimer Bernard Jankowski
At eight minutes past two, at an altitude of 5000 metres, there's the rattling sound of the 'Schrägwaffen', the upward-firing machine guns of a German pilot's Junker 88. The bomber carrying the Poles is hit in the fuselage and right wing and dives straight down towards the hamlet of Bern, at the time still part of the municipality of Heusden.
The Lancaster smashes into pieces in a meadow near the Bern steam pumping station. As a result of the blow the plane's cargo explodes, with the exception of four 500-pound bombs. The result is a crater of ten metres wide and five metres deep. The wreckage is spread across a distance of one and a half kilometres. No crew member has managed to leave the aircraft and all of them perish, some severely mutilated.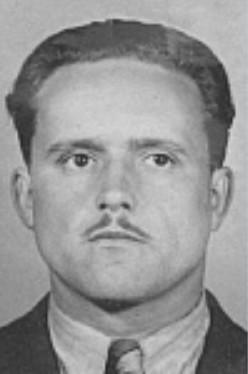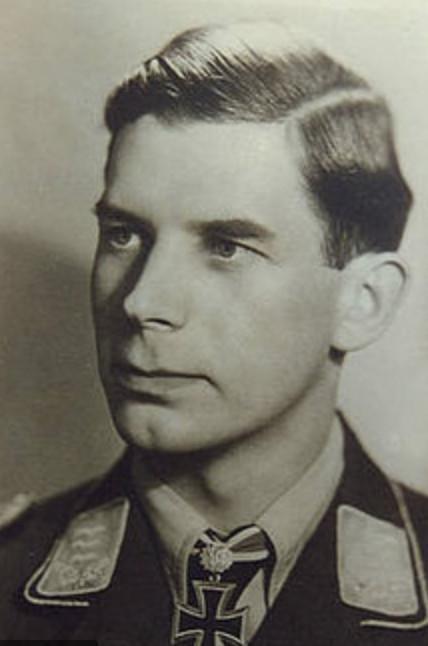 Photo: Flight engineer Marian Myszor and Heinz Rökker, the pilot of the German Junker 88
Initially, only four bodies are found in that meadow on the other side of the river Maas. Two of them are identified by the Germans as Duchaczek and Myszor. The remains of all four men are buried without ceremony at the Roman Catholic cemetery in Heusden by order of the Germans. The other remains that are found when clearing the wreckage are also buried there. On 25 July 1962 the eight dead are transferred to a Polish cemetery in Breda. At this point, all men are identified and all eight are given their own grave.
German pilot Heinz Rökker passed away in 2018 at age 97. He was one of the most successful 'night fighters' in the history of the air war and received awards for his accomplishments.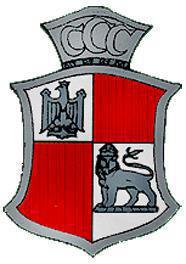 Badge of No. 300 Masovian Squadron
Source: Brabants Dagblad, 2 May 2012 ​