Photo: Vickers Wellington IC DV 740-EU-O
Read the whole story in Dutch.
On 31 May 1942 at 00:45 am (some accounts speak of 2:00 am) a British bomber crashed near Alem, most likely in what was then known as the Alemsche Overwaard. The aircraft was a Vickers Wellington IC DV 740-EU-O of 26 OTU (Operational Training Unit).
The objective of 26 OTU was to train crews for the night flights of the RAF Bomber Command so that they would learn how to function as a close-knit team. Once they were skilled enough, the men would become part of an operational squadron.
With their training almost over, they were that told they would have to fly together as a crew. Their first mission took place on the night of 30/31 May. Led by Warrant Officer F.G. Hillyer, the bomber took off from its Royal Air Force Graveley home base in Huntingdon at 11:05 pm local time.
The goal was to bomb Cologne. On its way back, the British bomber was intercepted by German night fighters and shot down by Oblt. H. Patuschka or 4./NJG 2, who was flying a Bf110. The aircraft probably crashed in what was then known as the Alemsche Overwaard. 
Photo: The German gunner Horst Patuschka
​Four crew members lost their lives in the crash: 
Pilot Officer Arthur Cyril White, 23 years old.  Wireless Operator/Air Gunner
Sergeant David Stanley Bonner Vincent, 25 years old. 
Air Gunner Sergeant Hector Leslie Smith, 27 years old. 
Navigator Sergeant Dennis Howard Fletcher, 21 years old.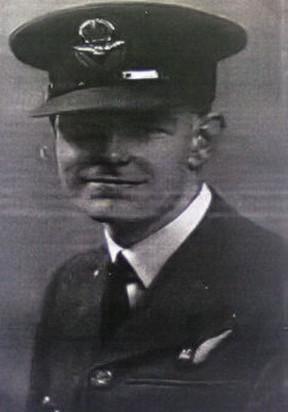 Photo: Pilot Officer Arthur Cyril White
​The four crew members were buried on 2 June 1942 in the English cemetery next to the St. Peter's Church in Uden. Initially, David Vincent was buried here as an unknown person. He wasn't identified until December 1943. All four men were reburied in the autumn of 1946 in the present cemetery in Uden. Their first mission had turned out be their last as well. 
In Kerkdriel you can find a war memorial that is called the 'Monument to Allied Soldiers'.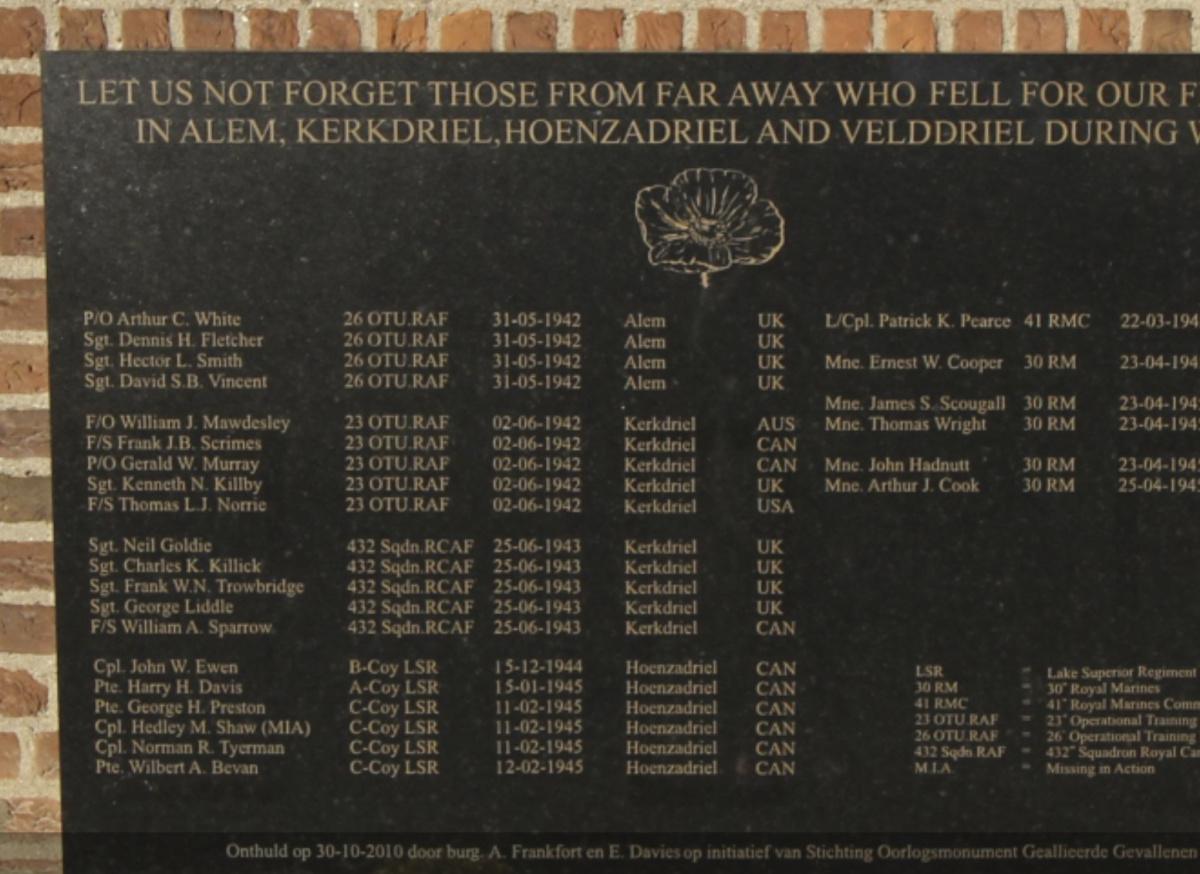 Photo: The 'Monument to Allied Soldiers' in Kerkdriel (municipality of Maasdriel)
Plasticised photo 
Warrant Officer F.G. Hillyer saved himself by parachute and was taken prisoner of war. On the day after his landing he was arrested by local police and transported to the town hall in Lith. There he was handed over to the German authorities. They took him to Utrecht for questioning and then to Amsterdam. First he was taken to the crash site of the plane, though. In between the wreckage he saw the bodies of the rest of the crew. It was an impressive and heartbreaking experience.
Freddie Hillyer was then interned as a prisoner of war in Sagan (Poland), in Heydekrug (Lithuania) and in Gross Tychow (Poland). In 1945 he finally regained his freedom. After his death on 6 March 1993, his family found a photograph of his crew among his belongings. He had always kept the photo without anyone knowing anything about it.   
Source: Gijs Krist