First Lieutenant John Fee hailed from Beverley Hills, California and was married to an English woman. He had just returned from a 30-day leave in America and participated in Operation Market Garden. On 17 September 1944 he had flown a successful mission with the 84th FS. The group had dropped 14 bombs at both ends of the Haamstede bridge. Two of them had been right on target. A number of others came down in close vicinity.
Photo: First Lieutenant John R. Fee
The following day Fee left for another combat mission, led by Lieutenant Jack J. Oberhansley, to provide support to the second task force by bombing anti-aircraft guns. Several occasional targets, including 7 trucks, were hit near Haamstede, one anti-aircraft gun was destroyed and eleven others were damaged. During the mission, Fee's Thunderbolt is said to have been hit by an anti-aircraft gun at the north end of the bridge. After being hit, the plane started to spin and eventually crashed into the water.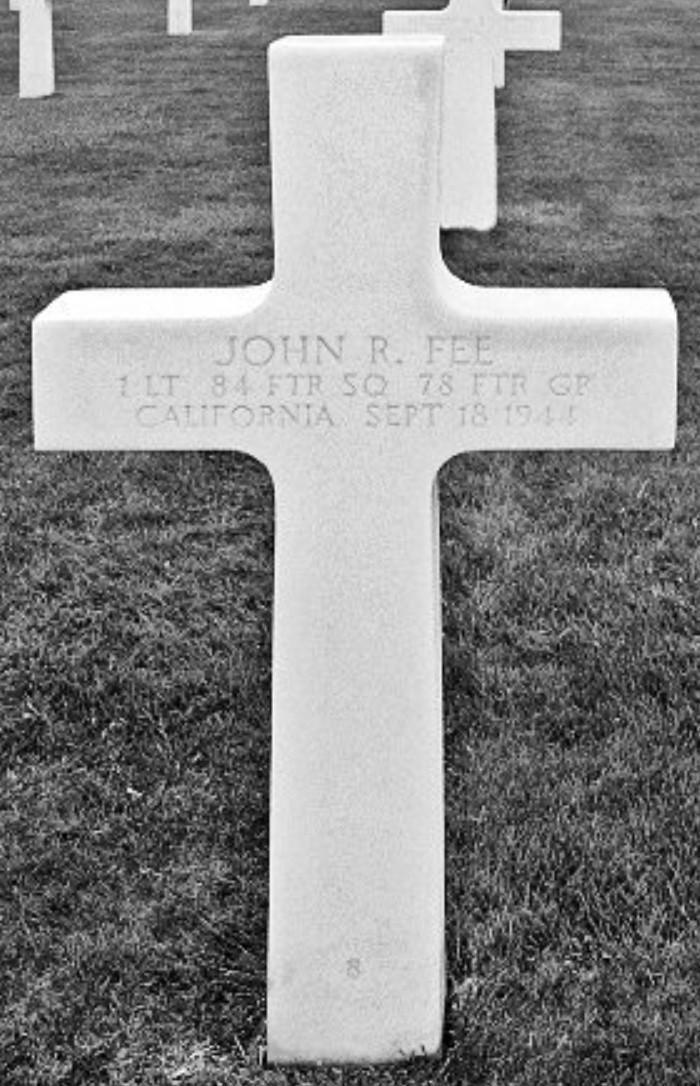 Photo: Grave of John R. Fee in Margraten ​
Eyewitness 2nd Lieutenant Spooner reports the following: "I was flying the 'Blue shampoo four'. I saw Lt. Fee take aim at an anti-aircraft system near the bridge at Zaltbommel. When he pulled up, he suddenly turned sharply to the right and the plane started to spin. He didn't jump out of his plane before it crashed into the water about 100 ft from the bridge. The plane disappeared into the water. I didn't see Lt. Fee come to the surface. This took place at around 2:45 pm on 18 September 1944. I wasn't close enough to see if he was hit, but things went wrong so suddenly at that spot that I believe that he was hit."
John Fee was awarded the Distinguished Flying Cross with Oak Leaf Cluster. He is buried at the American Cemetery in Margraten. ​